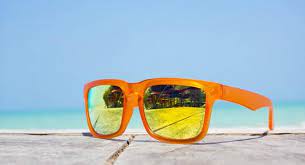 Buying new summer glasses is not an easy task. Keep in mind some important tips before selecting the glasses. These are very simple the glasses should be polarized, ensure UV protection and shape glasses. Ensure all these factors; otherwise, you pay a massive amount but can still not protect your eyes and the skin around.
Top 5 Tips for Buying New Summer Glasses
UV Protection
Summer glasses are used to expose you to dangerous UV light. At the time of purchasing, make sure that the pair provide 100% UV protection. Here, we discuss two types of UV light which affect your eye.
UVB rays are the main cause of diseases like cancer if you expose your eyes to these rays. The intensity of these rays does not remain the same throughout the year. But these are much stronger in summer, especially between 10 a.m. to 4 p.m.
95% of the rays reaching Earth's surface are UVA. The intensity of these rays remains the same during the whole year. Recent studies indicate that these rays cause skin cancer and cataracts as well.
Polarization
Summer glasses must be rich with polarized properties. Due to this, property lenses blocked the way of light rays and didn't allow them to enter your eyes. The light in your eyes will be already filtered and have no hazardous effect on your eye health.
Polarized lenses block the reflections, which help you drive and play a game like cricket. You can see the objects in the surrounding without even squinting. One last benefit of these lenses is that you will see things more clear and neat.
Shape of Frame
The market is filled with thousands of shapes of frames. But you will go with only those frames that suit your personality and fit your face shape. Further detail about the different frames is given below:
Aviators have big and bold lenses than most other clip on sunglasses target. These lenses are best known for protection against UV rays and are also rich in polarization.
Butterfly shape frames are famous due to providing extra protection. These oversized sunglasses are recommended if someone wants to cover the eyes completely.
It is clear from the name that these are 8-sided lenses and therefore named Octagonal Sunglasses. These are trending, and that is the reason most of the models use them.
Oval-shaped sunglasses are best for those having a wide forehead and narrow chin. Edges of these are round and wider. Oval glasses can also be used with different face shapes.
Round eye frames are the perfect choice for people having round faces. These are an all-time favourite for most people who regularly use glasses.
Material of Frame
The material of summer sunglasses will decide their life and your comfort. Different materials have different functions. So, you should be clear about your requirement when purchasing.
These are lightweight and anti-corrosion frames. Most of the time, you will see two kinds of sunglasses, one is made with pure aluminium, which is soft and the other is commercial aluminium. Silicon and iron are used to prepare commercial aluminium; that is why it is hard and durable.
Metal is used to prepare most frames because it is easily available and has anti-corrosion properties. They are usually more expensive than frames made of plastic material.
Sports persons usually use nylon frames due to their flexibility and temperature fluctuation properties. These are cheaper than metal and aluminium frames but are lightweight and stronger.
Plastic frames are mostly prepared with plastics Polyurethane and Acrylic. These frames come in various colors and are much cheaper than the frames discussed above.
Color of Lens
Lens color can not be ignored in the case of summer sunglasses because different colors provide the different looks of the same object. Dark colors are often used when someone goes out in the summer season. On the other hand, grey color lenses decrease the intensity of light rays with the original look.
If someone wants to see its surroundings much brighter and more colorful, then a yellow color lens will be a perfect choice. These are mostly used in skiing, snowboarding and the list of other sports. Moreover, people related to cosmetics opt for blue and purple colors.