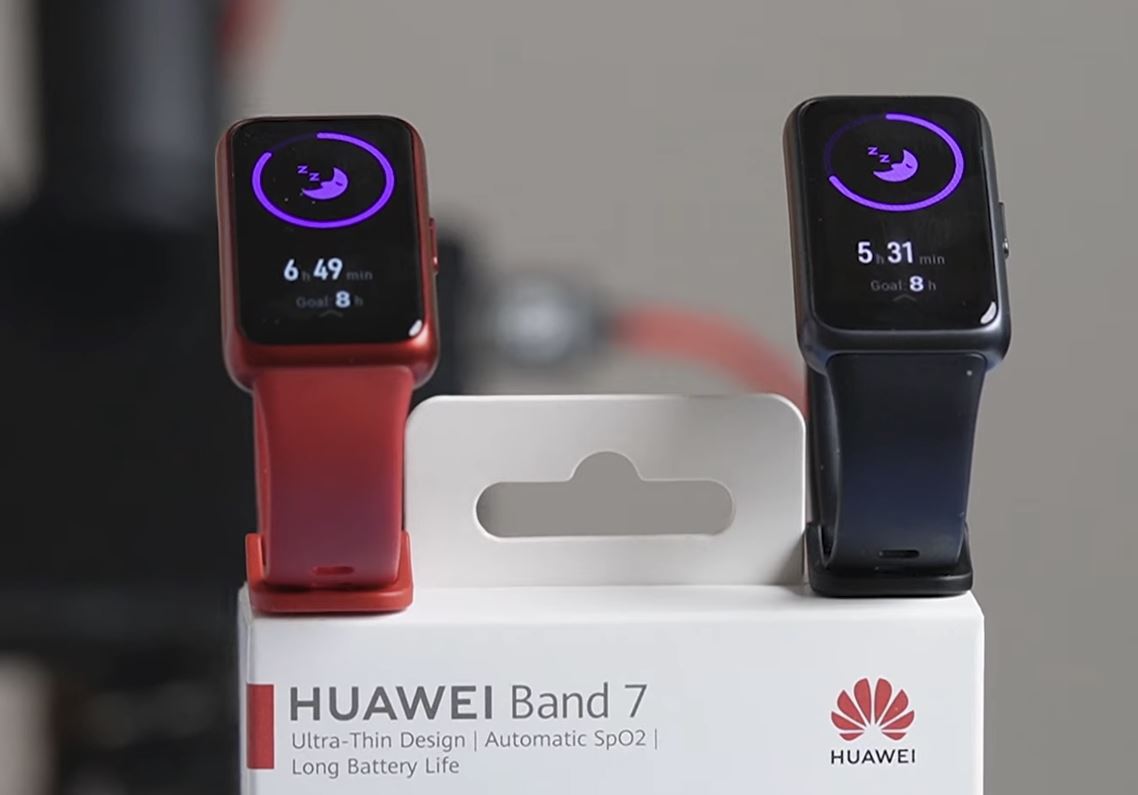 Smartwatches have become an essential part of our daily life. Big drawback: its relatively short battery life. If you want a better battery life, fitness bands from various manufacturers are a fantastic option. The Huawei Band 7 is the group's new face.
Huawei has officially introduced the Huawei Band 7. According to company officials, this is Huawei's thinnest smart bracelet, measuring only 9.99mm thick and weighing 16g.
The Huawei Band 7 has a 1.47-inch AMOLED screen, 2.5D high-quality curved glass, a relatively thin border design, a resolution of 194 x 368, and a new UI design.
The Huawei Band 7 is available in four colors: obsidian black, nebula powder, wild green, and fiery red, with a reinforced polymer fiber casing that provides fine metal texture.
Whether you look at it or touch it in your hand, the Huawei Band 7's design is lighter and slimmer. The entire body thickness is only 9.99mm. The small and lightweight body design fits the wrist perfectly and is comfortable to wear. There will be no weight-bearing sensation when you wake up, and it will not be unpleasant even when worn while sleeping.
Furthermore, the overwhelming experience of wearing the Huawei Band 7 on the hand is that it fits the wrist extremely well, as if it were skin. It provides a near-insensitive wearing experience. It is really comfy, and the wearing experience is still outstanding. The slim design and high-end fashion. The design style gives it a personality and an excellent appearance.
In addition to its attractive look, the Huawei Band 7 offers a variety of health monitoring features, including sleep health, blood oxygen monitoring, pressure monitoring, the female physiological cycle, and heart health.
In terms of sleep monitoring, the Huawei Band 7 is equipped with HUAWEI TruSleep 2.0 sleep monitoring technology, which required four years of research and development and extensive tuning and is presently the industry's top technology for infrared light-based sleep monitoring. This function can monitor sleep stages, real-time heart rate, sleep breathing, and sleep quality without disturbing the user's sleep.
Furthermore, the Huawei Band 7 can detect when the user is ready to sleep. When to fall asleep, fully presenting a comprehensive sleep structure including sleepiness and sporadic naps, and can accurately identify difficulty falling asleep, light sleep, easy waking up at night, and early waking up,
There are 6 types of typical sleep problems such as more dreams and irregular work and rest, and personalized sleep assistance services and 200+ sleep improvement suggestions are provided to guide users to sleep in the most scientific and healthy way.
Huawei Band 7 is a bracelet that is 5ATM waterproof. This waterproof performance is enough for daily waterproofing and rainproofing. It may also be used in water, however it cannot be changed. It does not support GPS, whereas Huawei Bands that do include Huawei Band 4pro and Huawei Band 3 pro.
Huawei Band 7 is also integrated with the newly improved HUAWEI TruSeen 4.0 heart rate monitoring technology, which can constantly, swiftly, and correctly give users with heart rate monitoring features, allowing users to care for their heart health in real-time.
This technology combines the creative technology and R&D strength of Huawei 2012 Laboratory and Huawei Global Research Institute. It has been regularly updated for 5 years. It has been updated to the fourth generation. Deep optimization of multi-sensor fusion and neural network AI technologies, with reduced power consumption and greater signal-to-noise ratio.
When combined with the ergonomic design of the product features, the motion interference noise cancellation algorithm is optimized, effectively avoiding the interference of wearing products in running, walking, cycling, and other sports and increasing the accuracy of exercise heart rate monitoring to the industry's maximum level.
Huawei Band 7 provides a wide range of health monitoring features, including sleep health, blood oxygen monitoring, stress monitoring, female physiological cycle, and heart health.
In terms of sports, it supports 96 sports modes such as running, cycling, swimming, rope skipping, roller skating, and so on, essentially covering the current popular sports and fulfilling the demands of many sports fans. It also has music control, remote control photography, AOD screen display, information reminder, and other features.
When the device is turned on, the Bluetooth is automatically in a pairable state. IOS users must link the device to be paired on the Bluetooth interface in the mobile phone system settings. Bluetooth is enabled via the APP.
Use the scan code function on the device page of the Sports Health App to scan the QR code of the device, click Agree in the Bluetooth message synchronization service dialogue box that pops up on the mobile phone, and the device vibrates to prompt for pairing, click Agree to pair, and the pairing is successful.
Open the Huawei Sports Health app, press the four dots in the top right corner, and then tap Add Device.
Move the phone close to the bracelet to search for the Huawei bracelet, then click to connect.
Battery life
In average settings, the Huawei Band 7's battery life may last up to 14 days. The ultra-long batterylife assures that we can wear it all day and use it continually, even while sleeping. You may also wear the bracelet all the time to check several bodily signs. Whether we wear it to exercise, work, or sleep, it may always be online and provide us with the most strong assistance.
The Huawei Band 7 does not allow wireless charging. It supports wired charging. Align the charging base's metal contacts with the charging port's metal contacts on the rear and lay it flat. Connect the other end to the charger and switch on the power until the charging level indicator displays on the screen.
It must be charged in a well-ventilated area. The charging base is not waterproof. Before charging, keep the charging interface, base port, metal contacts, and equipment dry. Wipe away any water or perspiration to avoid short-circuiting. The bracelet does not include a charger. Please use a Huawei charger with a rated output voltage of 5V and a rated output current of 0.5A or above.
It is suggested that you purchase a Huawei charger from Huawei's authorized sources. When the screen is on, use the battery symbol on the dial to check the battery level. On the device interface of the Sports Health App, check the battery level on the connected device.
In summary, the overall performance of the Huawei Band 7 remains good, the design is extremely delicate, and it has a huge screen design, which allows us to have a more convenient and quick experience when using it. In the realm of health and sports, on the other hand, Huawei Band 7 provides a more professional performance, and it is an exceptional smart wristband product.